So, after my drama last week of looking for an ensemble to wear to my friend's do, i decided to give my wardrobe a look over to see exactly what i have. I do admit that i have quite a few clothes and the majority of them don't actually fit. Not only do i have lots of clothes in varying sizes, i don't have any ensemble that is appropriate for casual outings in the evening. My wardrobe is filled with t-shirts, leggings and two pairs of jeans; one of which isn't my size. Just imagine the irony: i happen to love fashion but my wardrobe doesn't do the job of satisfying my daily need of an outfit to wear. My wardrobe is meant to be the one place in the world that can transfer me to another planet of love, joy and excitement whenever i open it but what i get is 'I HAVE NOTHING TO WEAR!'
With the state of the economy in Australia and other countries around the world, i have to update my wardrobe on a student-friendly recession budget. This means spending on the items that i'll get the most wear out of and saving on those that wouldn't see daylight often. Items like tights, leggings and tank tops i always classify as false economy because no matter how cheap you purchase them for, they can always look good on you as far as you take care of them in the best way possible. For me, this usually means washing them by hand. I know most of you would cringe reading that i do handwash on most of my clothes but for me it means that they last much longer than they would if i chucked them in the washing machine.
But before i even decide to start going shopping, i need to choose the kind of look/style i'm trying to cultivate. I belive that what you wear on a daily basis is an outward expression of yourself. Think of it as a silent communication to the public about who you are and what you're about. So i've decided to put myself on a wardrobe shopping ban from now till the first week of May until i decide what kind of look i'm going for. I've always been interested in the parisian look and how chic they always seem to come across. I love how they pull off simple looks and make it come off very appealing.
I've always love Thandie Newton and the effortless manner in which she wears her clothes....whether its simple, sexy or funky. I think this is actually a good time for me as well to re-evaluate myself and my wardrobe because its my birthday in May as well. This would also give me a chance to finally finish reading 'Two Lipsticks And A Lover'. From now on, i would be blogging about the clothes i see that i love and also the items i'll be interested in purchasing. Where possible, i'll also blog about celebrity outfits and how you can get them for less.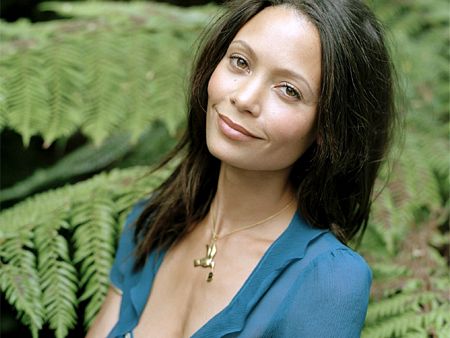 Source:
Photo
and
Photo